Rancocas Creek Bridge Accident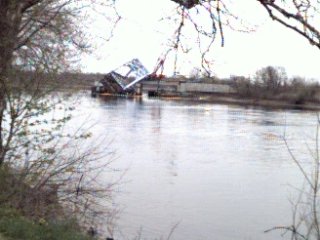 On April 5, 2001, the steel portion of the light rail bridge over the Rancocas Creek, which was floating on a barge near its final position, now rests at a angle as the barge supporting it capsized. The steel span, 200 feet in length, struck a crane, damaging it. There were no serious injuries reported in local news media, and no cause has been identified.
The bridge under construction replaces the swing bridge formerly used on the Bordentown Secondary.
The motor vehichle bridge over the Rancocas Creek is just downstream from the railroad bridge.
---
These photos were taken on April 15, 2001 and are © 2001 by Timothy M. Griscom.
---